Plastic pallets are for customers who understand the value of an investment that is for a duration, not short term. The initial cost of plastic pallets is more expensive than wood. The value in plastic pallets is they are designed to be durable and reused. Depending on how they are used and managed there are no replacement costs until 5-7 years after they were purchased. Not only are plastic pallets lighter in weight, and ergonomically safer for your employees, you are not paying for disposal or maintenance costs. Here are additional value points:
Thermoformed plastic pallets vs. wood pallets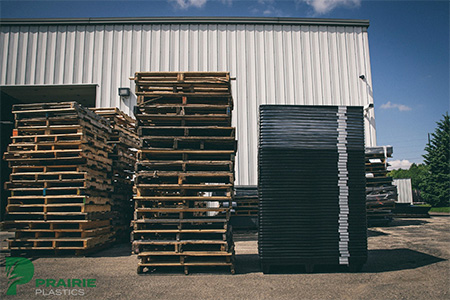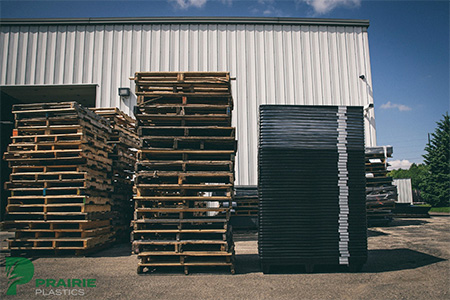 Vacuum formed plastic pallets are weather-resistant, clean and durable. They are bug-free and require no fasteners which translates into a larger upfront investment then wood, but in most cases are far longer lasting. Wood pallets give off moisture, can splinter, hide bugs and require fasteners that can damage your products.
Plastic vacuum formed pallets get returned
More and more industries work in a closed-loop warehouse system which allows the plastic pallets to be returned to the original shipper. This means you will not need to get new pallets every time you send a shipment since you will receive your originals back.
Thermoformed plastic pallets are lightweight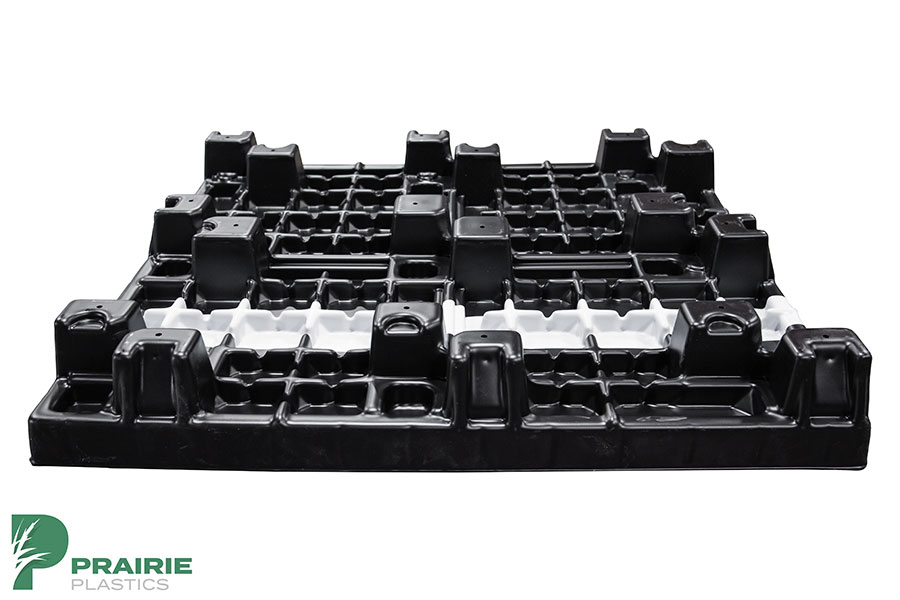 The plastic pallets are lighter weight which reduces freight costs and fuel consumption. Wood can hold an average of 1,500 to 3,000 lbs. Heavy gauge plastic pallets can hold the highest heavy static and dynamic loads depending on the design.
Vacuum form plastic pallets are environmentally friendly
Wood Pallets are made using natural material -wood. Thermoformed plastic pallets can last much longer than wood and can be recycled and repurposed.
Which vacuum formed plastic pallet is right for your business?
Questions to get us started: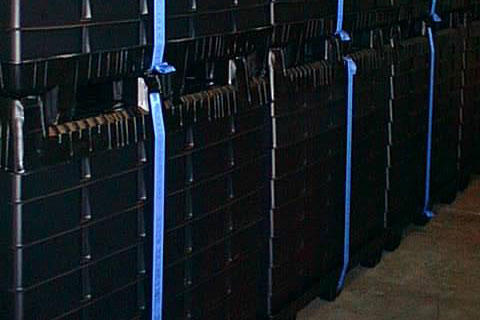 What size do you need?
How much weight does it need to hold?
What are you using the Pallet for? How are you moving the Pallet?
Prairie Plastics can help you narrow down which vacuum formed plastic pallet is right for your business or our engineering staff can design something entirely new to suit your needs. Contact us today to get the process started today.
Prairie Plastics not only develops custom solutions for customers, we also have standard pallet tooling that can be tailored to fit the customer criteria. These tools are owned by Prairie Plastics and can be customized by altering the starting material thickness, material color, color striping, nomenclature, and/or adding hardware, seatbelts or labels to provide a custom solution to the customer.
If Prairie Plastics does not have a tool for the pallet size that you need, we can develop it for you. We are also open to distribution, stocking, and just in time delivery options to help the customer be successful.
Custom color stripe options available
| Features | Sleeve Channel | Seatbelts | Mirror Image | 4 Way Entry | Single or Twin | Reinforced | Conveyorable | Extensions |
| --- | --- | --- | --- | --- | --- | --- | --- | --- |
| 32″ x 30″ | Yes | Yes | Yes | Yes | Single | No | Yes | 33″ x 31″ |
| 48″ x 40″ | Yes | Yes | Yes | Yes | Single | No | Yes | 49″ x 41″ |
| 48″ x 45″ | Yes | Yes | Yes | Yes | Single | No | Yes | 49″ x 46″ |
| 48″ x 57″ | Yes | Yes | Yes | Yes | Single | No | Yes | 49″ x 58″ |
| 49″ x 46″ | Yes | Yes | Yes | Yes | Twin | No | Yes | No |
| 44″ x 44″ | Yes | Yes | Yes | Yes | Single | No | Yes | No |
| 48″ x 48″ | Yes | Yes | Yes | Yes | Single | No | Yes | No |
| 53.25″ x 43.25″ | Yes | Yes | Yes | Yes | Single | No | Yes | No |
| 65.5″ x 45.5″ | Yes | Yes | Yes | Yes | Single | Yes | Yes | No |
| 46.25″ x 36.25″ | Yes | Yes | Yes | Yes | Single | No | Yes | No |
Design features of our mirror image plastic pallets:
Used as base pallet and cover
Interlocking legs for location when double and triple stacking
Four-way entry
Sleeve channel for sleeves
Perimeter lip for containment
Drain holes options
Hand holes options
Label(s) options
Seatbelt assemblies are available
Twin sheet plastic vacuum form pallets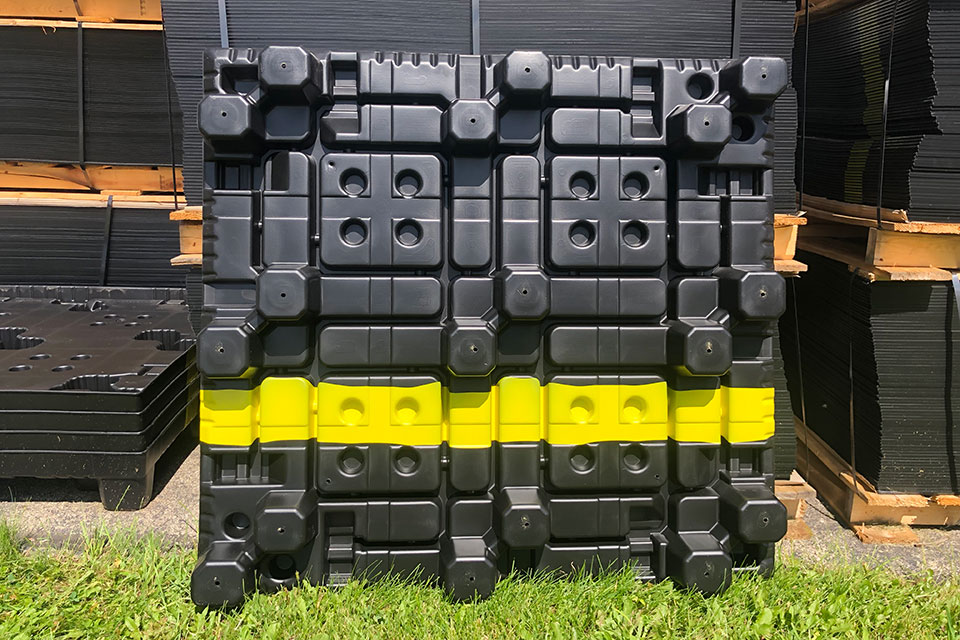 Prairie Plastics has the technology to develop twin sheet pallets. A twin sheet pallet uses two sheets of plastic and requires two tools that will manufacture a pallet with heat and pressure. The value of twin sheet is more design features are available and a pallet with increased rigidity.
Reinforced vacuum formed plastic pallets
Prairie Plastics can also add reinforcement to a custom designed plastic pallet. The reinforced vacuum formed plastic pallet has composite or steel bars that are thermoformed directly into the pallet to provide extra load strength.