A sleeve pack, is a lightweight unit load shipping system utilized to support, store, protect, transport and merchandise unit loads of goods or materials. The sleeve pack includes a pallet base, a top lid, as well as a foldable or two-piece sleeve. The pallet and top lid are manufactured from plastic, with collapsible walls that fold. Prairie Plastics will customize sleeve packs depending upon the demands of the application and the potential for retrieval and reuse. Sleeve packs can feature "all-in-one" design so that the top, bottom and sleeve remain together as a set, even when collapsed.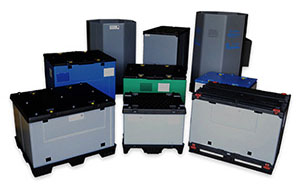 Prairie Plastic offers custom and viable options in the bulk industry. All pallet tool sizes will accept custom designed sleeves to protect and secure your products. Various color options are available.
The reusable sleeve pack are a favorably option to corrugated gaylords and bulk containers. They also fair well to more expensive rigid intermediate bulk containers (IBCs) for appropriate applications. Sleeve packs can be used in place of plastic wrap or straps to provide load containment for palletized items. Plastic sleeves are environmentally friendly and have no disposable cost. They are not susceptible to water damage, and sleeve pack systems lend themselves to stable stacking, to help optimize storage and transport utilization. Light pack component weight and other features such as access doors, enhance worker safety in working with them. When empty, sleeve pack systems are collapsed, providing convenience in returning the empty container to reduce transportation costs and saving floor space.
Custom color stripe options available
Sleeve packs
Prairie Plastics offer a wide variety of collapsible sleeve packs, some with dunnage and some without. We can customize sleeve packs in a variety of material thicknesses based on the customer's need.
Prairie Plastics has strategic partnerships with sleeve manufacturers so the customer receives value in one stop purchasing. The collaboration in the partnership produces the most cost-effective quality custom solution for the customer. Sleeves, which can be corrugated or plastic polypropylene, can be customized by height, thickness, drop doors, color, and graphics. The sleeves can be designed with three types of folds:
Benefits of sleeve pack systems
We offer designs that are collapsible – Can be built with and without dunnage.Collapsible equals reduced transportation costs and less need for floor space.
Low-maintenance
Safe
Sleeve packs are Lightweight
Can be assembled by one person, one minute to assemble the sides to the pallet and top
Can be stacked four or more high
Can be easily recycled at the end of its useful life
Prairie Plastics has strategic partnerships with sleeve manufacturers so the customer receives value in one stop purchasing. The collaboration in the partnership produces the most cost-effective quality custom solution for the customer. Sleeves, which can be corrugated or plastic polypropylene, can be customized by height, thickness, drop doors, color, and graphics. The sleeves can be designed with three types of folds:
M Fold – Hinges incorporated on short sides of the sleeves when sleeve width is less than or equal to pallet width
Z Fold – Hinges incorporated on the long side of sleeve width is greater than pallet width
C Sleeves – 2 pieces attached in the center for ease in unloading the product